Hopper - Flight & Hotel Deals
 (総合 8474位)
価格 : 無料
App Store 評価 :

4.7 (評価数 : 269)
カテゴリー

ソーシャルネット (アプリケーション)

バージョン

6.71.0

App Store
更新日

2021/10/11

開発者

Hopper

対応機種

iPhone(iOS 13.0以降)、iPod touch(iOS 13.0以降)

対応言語

英語 

ほか

サイズ

210.8MB

情報取得日

2021/10/22
※画像をクリックすると拡大します。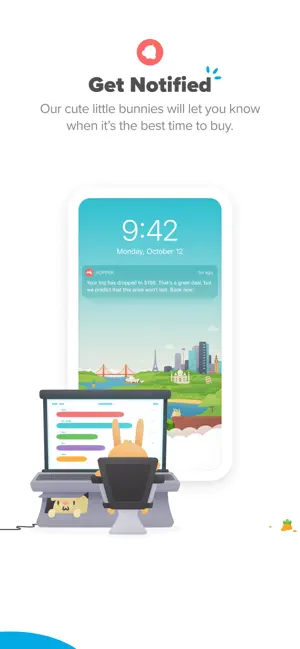 概要
Relax — booking travel just got easy.

Hopper predicts prices for flights and hotels, with 95% accuracy up to 1 year in advance. You can watch a trip right in the app and we'll send you a notification when it's the best time to buy — recommending you to book now, or maybe wait just a little longer.

We've helped over 30 million travelers book trips around the world, saving them more than $1.8 billion to date. That's a saving of up to 40%.

Hopper features the major airlines in the US, Canada and around the world such as American Airlines, United Airlines, Delta Air Lines, JetBlue, Alaska Airlines, Air Canada, Frontier, Spirit Airlines, Hawaiian Airlines, Air Transat, WestJet, British Airways, Air France, Lufthansa, KLM & many more.

Search Flights & Hotels
Over a million flights, hotels, rental cars and cute bunnies.

iTunes App Store レビュー
Good value At first I think this application is a scam because of some reviews I found but then I already booked twice and reservations are legit as I confirmed directly to the airlines. Service fee is just fine. Reasonable price. Their Customer service rep. response promptly. Keep up the good work.!!! P.s I hope you have multiple destination option too!
Expensive flights Nice app concept but the current prices shown flights shown are substantially (eg 25%) more expensive than booking direct with the airline in the two cases I checked. Therefore the app is useless and I uninstalled already.
デベロッパの回答

、

Thank you for your feedback regarding this issue. We're sorry to hear that your price prediction was not accurate. We continually adjust our predictions as we see what prices are doing, which means that we sometimes change our recommendations. While our predictions are 95% accurate, we unfortunately cannot guarantee them.
Can not see the price Can not display the price when you confirm to pay. Really bad UI
デベロッパの回答

、

Oh no! Something definitely doesn't sound right here, but thank you for your feedback! Please feel free to reach out to our support team via chat and we'd be happy to troubleshoot this with you.
一覧に戻る
※タイトルロゴをクリックしても戻れます。