Find Your Fitbit - Super Fast!
 (総合 28834位)
価格 : 無料
App Store 評価 :

4.5 (評価数 : 17)
カテゴリー

アクション (ゲーム)

バージョン

3.0.3

App Store
更新日

2022/07/31

開発者

Guilherme Verri

対応機種

iPhone(iOS 12.0以降)、iPad(iPadOS 12.0以降)、iPod touch(iOS 12.0以降)、Mac(macOS 11.0以降とApple M1以降のチップを搭載したMac)

対応言語

英語 

サイズ

36.2MB

情報取得日

2023/11/30
※画像をクリックすると拡大します。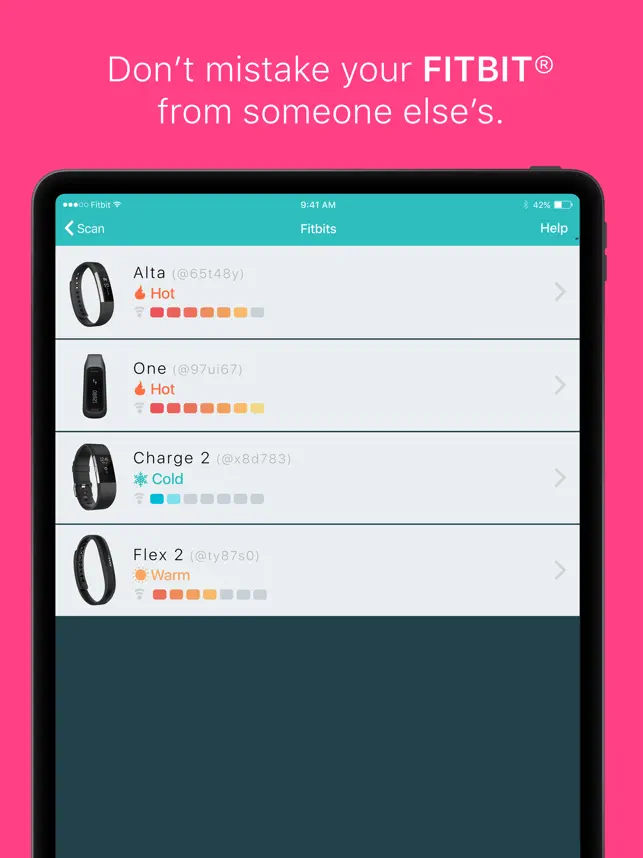 概要
HOW IT WORKS
Fitbit Finder makes finding your lost Fitbit really fast.

- Launch the App
- See and select your Fitbit* - (If you are having trouble and no Fitbit is being displayed, please read the instructions and try to disconnect you Fitbit from your iPhone/iPad Bluetooth.)
- Walk around slowly. As you move closer to Fitbit you lost the signal will go up and the indicator will change from Cold to Warmer.
- When you are near your Fitbit the indicator will display Hot. It's as simple as that. You found your lost Fitbit!
- The app cannot find Fitbit's that have a dead battery or are more than 80-100ft away from your iPhone/iPad

Read the app instructions for more help. For support go to http://www.findmyfitbit.com/support - Please email us before posting any negative review.

レビュー
Yay I able to find my Fitbit very quickly, thanks!
デベロッパの回答

、

Thank YOU! ❤️
Hi I don't have a review yet because I haven't gotten the app to work correctly yet
デベロッパの回答

、

Have you got the app to work correctly?
Altaも対応してました 3時間くらい探し続けて見つからなかったのに一瞬で見つかりました。

リストにはないで‏す‎がAltaも対応してま‏す‎
一覧に戻る
※タイトルロゴをクリックしても戻れます。