Nihongo - Japanese Dictionary
 (総合 21198位)
価格 : 無料
App Store 評価 :

4.7 (評価数 : 1,019)
カテゴリー

カード/パズル (ゲーム)

バージョン

1.28.4

App Store
更新日

2022/05/11

開発者

Serpenti Sei LLC

対応機種

iPhone(iOS 14.0以降)、iPad(iPadOS 14.0以降)、iPod touch(iOS 14.0以降)、Mac(macOS 11.0以降とApple M1チップを搭載したMac)

対応言語

英語  中国語 

ほか

サイズ

406.8MB

情報取得日

2022/05/16
※画像をクリックすると拡大します。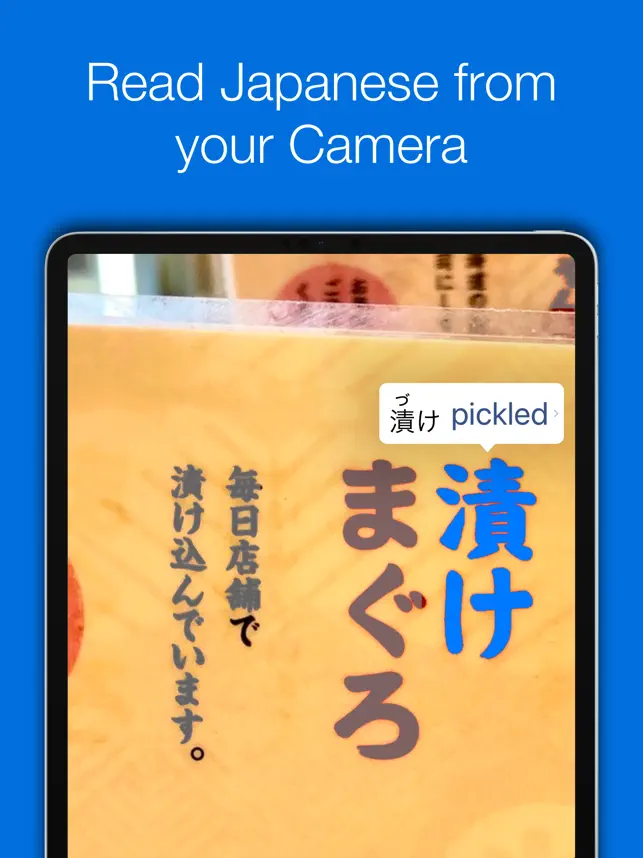 概要
Nihongo is an offline Japanese dictionary, flashcard app, and reading assistant, designed to make the best use of the time you dedicate to studying Japanese.

Our dictionary is made to find what you're looking for fast, with the words Japanese speakers actually use at the top of every search result, and every word marked as "common", "uncommon", or "rare".

"Clippings", our reading assistant, is what makes Nihongo stand apart from other dictionaries. Paste in Japanese text from a website, email, an eBook, or anywhere else, and we'll add furigana or romaji to every word. We also enable you to tap on any word to see its definition. This will truly change the way you read Japanese. And now, you can get the same experience right in Safari using our Safari extension.

Personal experience (as well as a good deal of research in second-language acquisition) has shown us that the words that you're most likely to remember are the words that you're encountering naturally. To this end Nihongo automatically draws from your search history and clippings to compile flashcard decks filled with words for which you already have context. This makes it easy to study both the words you looked up during Japanese class, and those that appear in your favorite song or videogame. And by adding notes to the back of flashcards you can further connect each vocabulary word to your personal contextual understanding.

Kanji flashcards prompt you to draw the missing kanji from the words you're studying, creating stronger connections between the characters and their real-world use. Built-in kanji decks give you 2 or 3 key words to study for each kanji.

This app is only possible because of the JMDict (edrdg.org) and Tatoeba (tatoeba.org) projects. I highly encourage you to support these incredible projects that make apps like Nihongo possible!
レビュー
Most Amazing Dictionary I've Seen Yet I've been studying Japanese for quite a long time, and the quality of life improvements this app brings to my study is absolutely amazing. The clippings feature and the ability to furigana to websites in order to practice reading words I haven't encountered before is really something I never though I would get for a long time from a dictionary app.

Two features that I would love to see, if at all possible: Whenever you insert a sentence into the search bar, it would be amazing if it automatically broke the sentence down and searched each word in the sentence without having to put it into a clipping.

Also if we could get an actual Japanese version of the app (with Japanese interface and definitions) to help us eventually ween out of having to have those English crutches for our study, this app would be nearly perfect.

A friend of mine found this app and showed it to me and I haven't gone back since. Keep doing what you're doing! This app is amazing!
Miles ahead of any other app Especially the premium version (never tried the free version) is just unparalleled. Combines Anki, stroke order, pitch accent, and anything else you might need in an absolutely smooth way. It's clear that this app was written by someone who is also a user.
Nice features, search bar could use improvement while the search engine itself is nice What this dictionary has what others don't is how it searches. In most other dictionaries, if you search 気, the results will only have words start with that kanji, but in this one, it includes the words that don't start with it, like 大気, so you get more entries.

It also has furigana which is easier to read, more familiar, and takes up less space on the screen.

But, comparing this to shirabe jisho, I liked how that apps search works. There, all searches are automatic, it opens up the keyboard when you open the app, and the search bar is a bit lower down from the top of the screen so it's easier to reach.
In this app, the searches arent automatic and the seat h bar is all the way at the top of the screen.

Also, if I do a search in the app, go to another app and then switch back, it'll reset to the home screen (not all the time, but pretty frequently).
デベロッパの回答

、

Thanks for this feedback, as an indie dev I'm definitely working hard to always improve the app and add features like this that will fit more people's workflow. Can't say exactly when I'll get to them, but I've added these suggestions to my backlog, and will try to get to them in a future release!
一覧に戻る
※タイトルロゴをクリックしても戻れます。