価格 : 無料
App Store 評価 :

4.6 (評価数 : 531)
カテゴリー

マルチメディア (アプリケーション)

バージョン

4.46.0

App Store
更新日

2023/11/08

開発者

ABA English

対応機種

iPhone(iOS 15.6以降)、iPad(iPadOS 15.6以降)、iPod touch(iOS 15.6以降)

対応言語

英語  中国語 

ほか

サイズ

105.1MB

情報取得日

2023/11/29
※画像をクリックすると拡大します。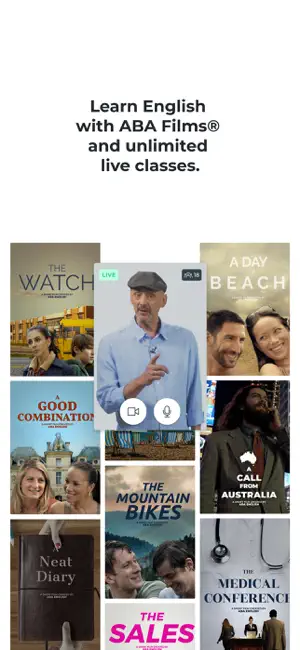 概要
Do you want to learn English with the help of the most complete and effective method?

ABA English, the English digital academy, has a plan for you that includes everything you need to learn and speak English successfully: a complete course + live classes + guidance from native teachers.

Download the app and start today. More than 30 million students around the world have already signed up.

HOW DO YOU LEARN ENGLISH WITH ABA ENGLISH?
Discover a unique and effective method based on immersion: you'll learn English just like you would if you were travelling to London or New York but without having to move a muscle and at your own pace.

LEARN WITH A COMPLETE ENGLISH COURSE
The ABA English course is video-based. It is comprised of 144 units in 6 official levels: from A1, Beginner, to C1 Business. What's more, it also includes live unit review classes.
レビュー
Although once I had liked using this app... However once I stopped auto update of the subscription it turned to unavailable for me to use as a premium user even though I have still terms of half a year...
I can't understand and I hope I can use the full classes as before.

P.S.
My account was succeeded to turn back to as a premium user. Thank you for the supporting.
デベロッパの回答

、

Hi! Thanks for your feedback! Remember we are available for any further question about our course. Have a great day!
Good but.... I really like this app and it has many stories I can choose to watch and learn from.

But I mostly spend time learning on my way work & home, so I can't really use the speaking lessons, also I am really good at speaking English despite my terrible writing skills.

>>I really hope I can just skip those speaking lessons and move on to other stories. Hope you guys can make it more flexible for someone just like me. <<

Best,
デベロッパの回答

、

Hello Student! Thank you for your comments :) The course is structured through progress and to obtain the certificates it is necessary to completely overcome all the units of each level but remember that even if you do not complete all the exercises, you will always be able to access the other units and levels.
Can continue! There are so many reading articles and listening materials. Various, stimulating and interesting resources help me go on learning everyday. Much better if I could have more speaking opportunities here, for example, compliment private talk sessions twice a month. 20 minutes each would be OK.
一覧に戻る
※タイトルロゴをクリックしても戻れます。