Airlines Manager: Tycoon 2023
 (総合 13679位)
価格 : 無料
App Store 評価 :

4.6 (評価数 : 481)
カテゴリー

アクション (ゲーム)

バージョン

3.07.0403

App Store
更新日

2023/03/11

開発者

Playrion

対応機種

iPhone(iOS 11.0以降)、iPad(iPadOS 11.0以降)、iPod touch(iOS 11.0以降)、Mac(macOS 11.0以降とApple M1以降のチップを搭載したMac)

対応言語

英語 

ほか

サイズ

290.8MB

情報取得日

2023/03/22
※画像をクリックすると拡大します。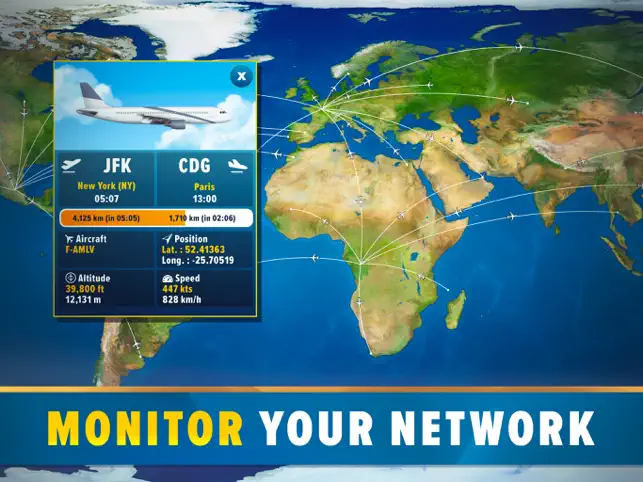 概要
Play the best aviation tycoon management game for FREE and become the world's greatest airline manager:
- Manage your airline like a real tycoon and become the greatest CEO in the aviation world!
- Create your fleet from among 130 realistic aircraft models, all from real-life modern civil aviation.
- Boost the management of your airline by negotiating hard with other players on the second hand market.
- Optimize the management of your airline network with real-time air traffic control, flight radar and results.
- Choose from 2600 airports to buy your hubs and set up individual aircraft on different routes, track with the flight radar.
- Unlock over 500 different types of research in the R&D center.
- Customize your airline by choosing from more than 200 available services.

BECOME A PART OF THE BIGGEST AIRLINES MANAGER TYCOON COMMUNITY:
- 10+ million aviation managers playing this aircraft fleet management game with real-time flight radar
レビュー
Most interesting game I have ever played I think It is the most interesting game I have ever played. This game can adjust many things about running company. This element doesn't exist other games. Also I think it is good idea to share the information with AirlinesPainter. It made detail adjust to the airplane. And I know it is unreasonable request but please increase the airport more!
At last It is excellent game in simulation category!!!
デベロッパの回答

、

Hello, thank you very much for your feedback and glowing review. We're glad you've been enjoying Airlines Manager. We're always working to improve the game and make it better and better. Don't hesitate to follow us on social media to make sure to be alerted when we update the game. 
The Playrion Team.
The best By far, this is the best airline game I ever played. As an airline geek, details such as seat configuration and fee ranges are well covered and adjustable. I think it already reaches very satisfactory and excellent quality and you can play with so much fun if you are airline geek. If there's more latest airplanes like B777X and more service options like catering etc, it's going to be much more great. But again, I already like it so much! Great work!
デベロッパの回答

、

Hello, thank you very much for your comment. We are glad that you like the game and it is really important for us to receive such positive feedback. We will continue to improve the app in order to offer you the best gaming experience. Stay tuned so you don't miss a thing! Have a great day. Playrion
Crash Report ver.2.4.01 Crash happen when this App Open each time.
・It is no difference between Wi-Fi or Not
・Crash happens about 1sec after Playrion Game studio's logo show.

iphone7+ ver.2.4.01 Japan iOS 11.1.1
Please fix it! and sorry for my broken English.
一覧に戻る
※タイトルロゴをクリックしても戻れます。