Manchester United Official App
 (総合 12532位)
価格 : 無料
App Store 評価 :

4.8 (評価数 : 532)
カテゴリー

アクション (ゲーム)

バージョン

10.2.26

App Store
更新日

2023/05/23

開発者

Manchester United FC

対応機種

iPhone(iOS 12.0以降)、iPad(iPadOS 12.0以降)、iPod touch(iOS 12.0以降)

対応言語

英語  中国語 

サイズ

122.3MB

情報取得日

2023/06/02
※画像をクリックすると拡大します。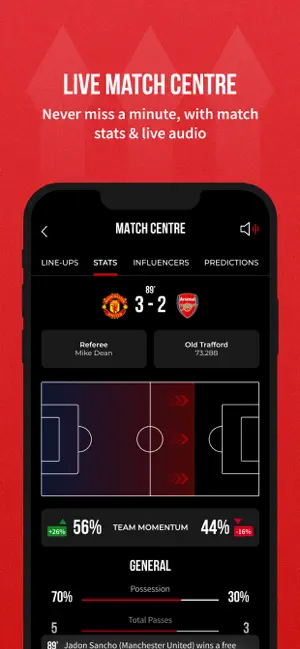 概要
Wherever you are in the world, the free Manchester United app is the home for millions of loyal fans. Make your match predictions and unlock exclusive content and offers. See the full Premier League collection, relive iconic moments with match replays, watch the entire pre-season tour live. Discover MUTV originals and tune in to our Women's team and Academy fixtures LIVE. Join the club – download for free now.

Our best features:

• United Daily: Your round-up of everything United. Check-in for club updates, what's happening with the squad and insider views you won't find anywhere else.

• Get 24/7 access to MUTV stream, plus all your favourite shows, boxsets, MUTV Original films and documentaries, on-demand. Set reminders and create your personalised watchlist.

• Play and win with United Predictions! Predict the score, line-ups, first scorer and man-of-the match and win some incredible prizes along the way.

• Premier League Collection: Every goal, every game. Explore our archive and witness every inspirational moment from every game in our Premier League history.
レビュー
Love this I love this app. I live in Japan so it's not always possible for me to stay up and watch the games. The highlights, the 20 in 90, and the Full 90 features are amazing. Great app, great design.
にほんごがほしい ジャパニーズプリーズ!

In English, it takes time for Japanese to understand sentences, so I want a function to translate from English to Japanese! Please
お願いしま‏す‎ 日本語対応して欲しいで‏す‎。
お手数かけま‏す‎が‏、‎なんとかお願いしま‏す‎。
一覧に戻る
※タイトルロゴをクリックしても戻れます。