High 5 Casino: Home of Slots
 (総合 7658位)
価格 : 無料
App Store 評価 :

4.4 (評価数 : 126)
カテゴリー

カード/パズル (ゲーム)

バージョン

4.24

App Store
更新日

2021/07/20

開発者

High 5 Games

対応機種

iPhone(iOS 9.0以降)、iPad(iPadOS 9.0以降)、iPod touch(iOS 9.0以降)、Mac(macOS 11.0以降とApple M1チップを搭載したMac)

対応言語

英語 

サイズ

291.9MB

情報取得日

2021/07/30
※画像をクリックすると拡大します。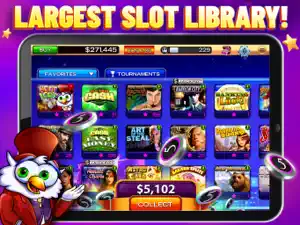 概要
Welcome to High 5 Casino, the Home of Slots!



Come CASINO YOUR WAY in the world's largest slot game library available! Here, you can play tons of games found on the casino floor, plus HUNDREDS of exclusive games that can only be played here!



Our 400+ strong assortment of slot fun comes with daily bonuses and exciting promotions!


iTunes App Store レビュー
😊 楽しい
バグ!! ver4.4.0のアップデートで初期画面の変更など必要のない変更が行われているうえに、ルーレットの回転が止まらなくなったり、途中でゲームがストップするなど今までにない不具合が起こっているが、何のためにアップデートしたのやら理解に苦しむ。
デベロッパの回答

、

こんにちは、アプリに問題があることをお詫び申し上げます。 support@high5games.comに電子メールを送ってください。この問題を解決するのを手伝っていただきます。
懐かしい!楽しい! 2015年にダウンロードして、また2020年に再開しました。
ラスベガスのカジノを思い出します。
日本のスロットと比べて当たりやすくて、
演出が多様で楽しいですよ。
一覧に戻る
※タイトルロゴをクリックしても戻れます。