International SOS Assistance
 (総合 39782位) ※2021/06/13時点
価格 : 無料
App Store 評価 :

2.0 (評価数 : 40)
カテゴリー

未分類 (その他)

バージョン

7.0.0

App Store
更新日

2021/06/03

開発者

International SOS Assistance, Inc.

対応機種

iPhone(iOS 12.0以降)、iPad(iPadOS 12.0以降)、iPod touch(iOS 12.0以降)

対応言語

英語 

サイズ

37.5MB

情報取得日

2021/06/13
※画像をクリックすると拡大します。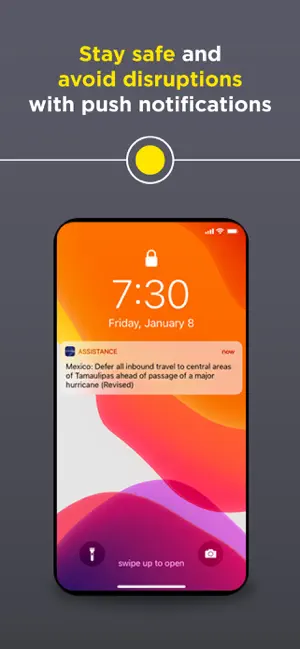 概要
Prepare for your next trip, avoid delays, and stay safe when traveling at home or abroad with the International SOS Assistance App.

Make the most of your International SOS Membership with the Assistance App. Find personalised pre-trip checklists, world-renowned medical and security advice, and up-to-date COVID-19 travel restriction information to help you avoid problems and trip disturbances.

Have a problem or need advice? The International SOS Assistance App gives you 24/7, worldwide access to a team of 12,000 health, security and logistics experts. Use the Assistance App for anything; from understanding what vaccinations you need before travel, to guidance on what to do in case of an emergency.

Not traveling? Use the app to research future trips and stay aware of developing situations in your home location.

• Travel with Confidence: Access personalised pre-travel checklists help you prepare for your next trip.

• COVID-19 Travel Restrictions: Access tools to help you understand border closings and the impact of COVID-19 on your next trip.
iTunes App Store レビュー
起動せず iPhone SE 2nd Generation iOS 14.2 及び 14.3 の組み合わせで起動しません。iPhone SE 1st generation では起動しています。原因不明です。解決をお願いします。
起動しない 下の人に同じく、iPhone11proで起動できなくなった。
台風が来るので、久々に開いたらログインできず。PWリセットしてもログインできないため、Appを再インストールしたら、アイコンタップした瞬間にappが終了するようになってしまった。
改善をお願いいたします。
Battery Drainage Consumes 50% of a fully charged battery in 6h!!! (While no other apps active)
Even disallowed "Background App Refresh" doesn't stop this...
一覧に戻る
※タイトルロゴをクリックしても戻れます。