価格 : 1,300円
App Store 評価 :

4.3 (評価数 : 3)
カテゴリー

マルチメディア (アプリケーション)

バージョン

4.1.5

App Store
更新日

2023/08/17

開発者

TacNav Systems LLC

対応機種

iPhone(iOS 12.4以降)、iPad(iPadOS 12.4以降)、iPod touch(iOS 12.4以降)、Mac(macOS 11.0以降とApple M1以降のチップを搭載したMac)

対応言語

英語 

サイズ

41.8MB

情報取得日

2023/09/27
※画像をクリックすると拡大します。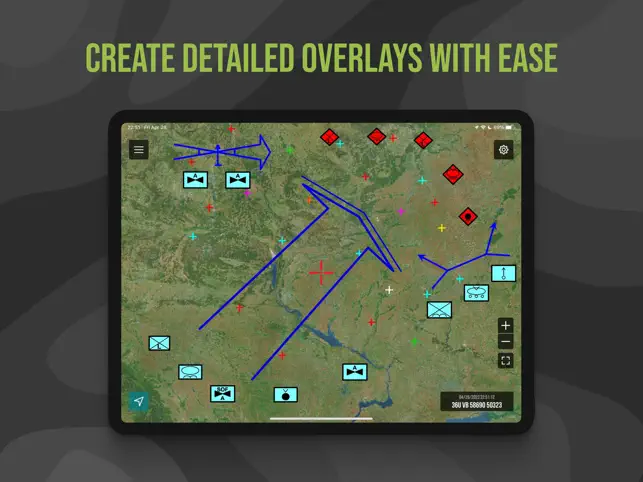 概要
BACKGROUND:

Built from the ground up in the rugged mountains of eastern Afghanistan, Tactical NAV comes from the mind of a U.S. Army Field Artillery officer who had a vision of creating a low-cost and highly accurate tactical navigation platform built specifically for military service members.

Tactical NAV's journey began in the notorious Pech River Valley of Kunar Province, Afghanistan.

U.S. Army Capt. Jonathan J. Springer, a Fire Support Officer with the 101st Airborne Division (Air Assault), began developing the tactical navigation platform following the memorial services for Spc. Blair D. Thompson and Spc. Jared C. Plunk, who were killed in action on June 25, 2010.

After pitching the idea and being turned away by the Department of Defense on multiple occasions, Captain Springer remained resolute in his mission to continue developing Tactical NAV — even to this day. His ultimate goals were (and still are) to make a difference for other Soldiers and honor the men and women killed and wounded in battle.

He used his life savings to continue moving forward with the Tactical NAV project, all with the ultimate hope of saving military lives and helping his fellow service members accomplish their mission at home and abroad.
レビュー
なかなか良いで‏す‎ が‏、‎欲を言えば、UTM座標が10桁だけなのが残念。
12桁あれば星5つでした。
遮光モードまであったりして(笑)マニアックなア‏プリ‎で‏す‎ね。
使用してみて 画面に赤のフィルターをかける遮光モードがあったり、操作・設定がシンプルでUTM座標がすぐに確認できたりと、ミリタリー仕様なア‏プリ‎でした
一覧に戻る
※タイトルロゴをクリックしても戻れます。