Desert Riders - Wasteland Cars
 (総合 11156位)
価格 : 無料
App Store 評価 :

4.6 (評価数 : 2,152)
カテゴリー

アクション (ゲーム)

バージョン

1.4.14

App Store
更新日

2023/11/25

開発者

SayGames LTD

対応機種

iPhone(iOS 12.0以降)、iPad(iPadOS 12.0以降)、iPod touch(iOS 12.0以降)

対応言語

日本語  英語  中国語  韓国語 

ほか

サイズ

173.5MB

情報取得日

2023/11/28
※画像をクリックすると拡大します。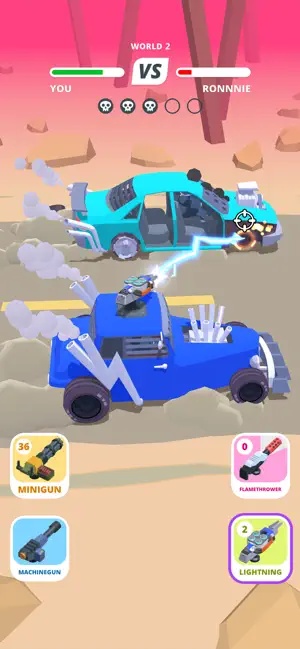 概要
► PUT THE PEDAL TO THE METAL

Drivers, rev your engines! Get ready for a heart-pounding nonstop thrill-fest packed with fast cars, powerful guns, and more road rage than downtown New York City during rush hour. Download Desert Riders now and start living life in the fast lane!

Fight enemies as you race side-by-side down the road in this exhilarating car shooting game. Just press on your screen to fire your weapon and drag your finger to aim. Blow apart enemy vehicles piece by piece and eliminate enemy shooters to make them spin out of control and explode!

Be careful to avoid enemy fire and make sure to dodge before the other vehicles ram into you. If you take too much damage, your car will be the one to blow up! The better your shooting and driving skills, the more in-game money you'll be rewarded with!

► PIMP YOUR RIDE

No car game is complete without customization, and Desert Riders is no exception! Choose a booster at the beginning of each level to add awesome extra weapons, armor, and health before you hit the street and bring the heat.
レビュー
これはこれは‼️ 面白い‼️
なにこれ アイテムもらう時、広告未準備とかで新しい車からステージクリア後のアイテムもなにももらえない。なんじゃこ‏の‎ゲ‏ーム‎。
💮 面白いで‏す‎な🤣
一覧に戻る
※タイトルロゴをクリックしても戻れます。