GameHouse Original Stories
 (総合 16289位)
価格 : 無料
App Store 評価 :

4.5 (評価数 : 24)
カテゴリー : アクション (ゲーム)

バージョン : 5.0

App Store 更新日 : 2020/10/16

開発者 : GameHouse

動作条件 : iOS 10.0以降。iPhone、iPad、iPod touch

サイズ : 102.1MB

情報取得日 : 2020/10/24
※画像をクリックすると拡大します。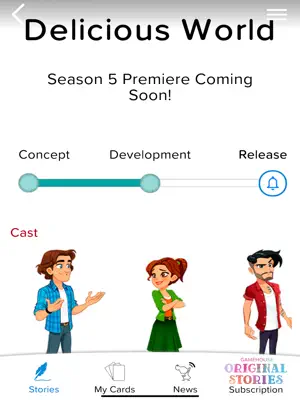 概要
If you love stories and games, you'll love our GameHouse Original Stories.

This app is the perfect gateway to our complete catalog of story games. Discover loveable characters and relatable stories to warm your heart, and feel like part of their family! Also be the first to know about new releases and have our entire universe at your fingertips.

All this with the free GameHouse Original Stories app!

- NEVER MISS A GAME RELEASE with our notification system

- FOLLOW YOUR FAVORITE STORIES and find all the available games in the series

- FIND UPCOMING STORIES and go behind the scenes with concept art and more!
iTunes App Store レビュー
Following Emily's story for more than 10 yrs I'm a fan of the Delicious series since it was out, and then keep following them from the Big Fish Games site. But as I was only keeping the membership for your games only, it is great to play them now from my iPad and directly from your app! Thanks so much!! Please keep up the good work, and the excellent stories (now I am fan of the Dr Heart's series...they are GREAT!!)
やっぱり 良いね(*´∀`)♪ 次が出るのを 待っていました!!
一覧に戻る
※タイトルロゴをクリックしても戻れます。