BusyCal: Calendar & Todos
 (総合 17021位) ※2021/04/21時点
価格 : 610円
App Store 評価 :

4.2 (評価数 : 89)
カテゴリー : アクション (ゲーム)

バージョン : 3.6.2

App Store 更新日 : 2021/04/13

開発者 : Busy Apps FZE

対応言語 :

英語 

サイズ : 29.2MB

情報取得日 : 2021/04/21
※画像をクリックすると拡大します。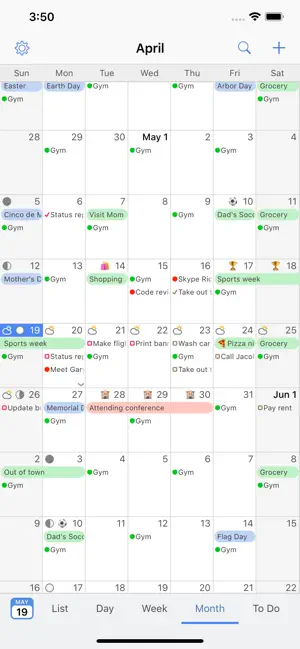 概要
BusyCal is a powerful, flexible calendar app for managing busy schedules, events and to dos.

BusyCal's unique features include customizable calendar views, integrated to dos, meeting scheduling, travel time, maps integration, natural language input, tags, alarms, search, weather, moons, birthdays, anniversaries, graphics and more.

BusyCal provides reliable support for iCloud, Google Calendar, Exchange, Office 365, and other CalDAV servers, enabling you to sync and share calendars with other Macs and iOS devices running BusyCal or the built-in Calendar app.

BusyCal for iOS is a full-featured mobile companion to BusyCal for Mac, the leading calendar solution for Mac OS X that thousands of users have trusted and depended on for years.

Calendar Views

• Display your calendar by Month, Week, Day or List.
iTunes App Store レビュー
Improvement request for event creation ver. 3.5.1

# Good points
* Speedy iOS13 SDK support
* Simple and clean UI design

# Improvement request
* Time scroll view should support infinity scroll
Time scroll view can be scrolled only in a day. I want to scroll beyond 24:00 (I want to scroll continuously to next day).
* Default start time at event creation should be based on current time like Apple Calendar or Informant5
* Display location history at event creation view
曜日や月ぐらいは日本語で 表示してほしいです。機能的には申し分ないです。
日本語入力で問題がある(変換がおかしいとか)場合は設定の "Create with Natural Language" をオフにすると解決しました。
訂正 通知センターで開くとクラッシュする 12/3 頃のアップデート後、通知センターにアップされたアイコンから開くと即消えるようになりました。

また、別件ですが、1年前のアップデート後【Event・Todo】作成時に日本語でタイトル入力をしようとすると漢字変換が出来ません。
最下段の【Show Details】をクリックしてからだと漢字変換ができますが、1回手間が増えます。

以前は直接日本語入力(変換)出来たので元のように改善してください。
一覧に戻る
※タイトルロゴをクリックしても戻れます。