価格 : 無料
App Store 評価 :

4.8 (評価数 : 1,695)
カテゴリー

マルチメディア (アプリケーション)

バージョン

7.7

App Store
更新日

2022/05/11

開発者

Disney

対応機種

iPhone(iOS 14.0以降)、iPod touch(iOS 14.0以降)

対応言語

英語 

サイズ

391.7MB

情報取得日

2022/05/16
※画像をクリックすると拡大します。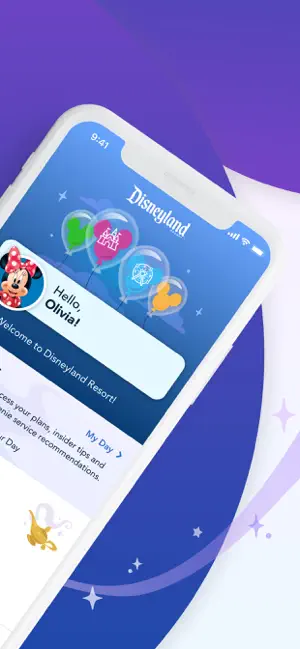 概要
Download the official app for the Disneyland® Resort! Enhance your next visit with an enchanting mobile experience. Buy your tickets, use the complimentary Disney Genie service planning tool, browse maps, locate Disney Characters appearing throughout the parks and much more!
* Make your theme park visit easier and more fun by taking advantage of our complimentary new Disney Genie service, which grants you a personalized itinerary that seamlessly maps out your special day with updates that continue during your visit.
* Create your very own personal Tip Board to track estimated wait times for your favorite experiences and more.
* Quickly access current estimated wait times and forecasted wait times for attractions, check park hours, find Character Greetings, view showtimes and more.
* Buy park tickets* and make park reservations with the app and show your barcode at the gate for admission when you first get to the park! No e-tickets to print out.
* Order Ahead and Save Time: Enjoy mobile food and beverage ordering at select dining locations.
* Make Dining Plans: Browse restaurant menus and make dining reservations right on your device. Then, conveniently check in for your reservation via the app at participating locations. No reservation? You can add your party to the mobile walk-up list at select restaurants (subject to availability).
* View Disney PhotoPass® photos: Enjoy unlimited digital downloads of your photos taken on select days by our professionally trained Disney PhotoPass photographers at magical must have iconic locations and select attractions when you purchase Disney PhotoPass+ or Disney Genie+ service. Don't forget to ask your Disney PhotoPass photographers for Magic Shots to add those extra shots only available from Disney PhotoPass® service. †
* Save time at the Hotels of the Disneyland Resort: Manage your hotel reservations, start your check-in process, get reservation updates and more!
* Exploring Made Easy: Find what you're looking for quickly with GPS-enabled maps that show your location and the attractions, restaurants, shops and more near you.
* A Must-Have for Magic Key holders: Link your Magic Key pass to access your discounts at select dining and merchandise locations. Show your Magic Key pass via the Disneyland app when you arrive!
レビュー
My Disney Experience APPもよろしく Disneylandアプリが日本でダウンロードできるようになってとても嬉しいです。
My Disney Experience のアプリも日本でダウンロード、更新できるようよろしくお願いいたします。

I am very happy to be able to download the Disneyland app in Japan.
Please download and update the My Disney Experience app in Japan.
感謝🙇🏻‍♀️🙇🏻‍♀️🙇🏻‍♀️ ありがとうございます🙇🏻‍♀️
ありがとうございます🙇🏻‍♀️
ありがとうございます🙇🏻‍♀️
近々行くので良かったです本当に!!
Privacy invasion Only after we paid for our tickets and right at the entrance they forcefully required to take a photo of each ticket holder. When we refused, they put us on hold not allowing us to enter the park. They could have explained this policy BEFORE we made payments. This is an infringement of privacy and illegal. I will take legal action!!
一覧に戻る
※タイトルロゴをクリックしても戻れます。